Vote for your favorite picture.

Check out these featured boxers
and where you can get them.

Help make the archives grow by
sending in your pictures.

Everyone has to do there part to keep this place going. Specify whether you want your pictures to only be put in the archives, or entered in the competition. Attach your pictures to the e-mail.

It's not just a guestbook.
It's your Opinion Book.

Check it out and add
your own comments.

Check out these awesome polls
about wearing boxers. If you have
any ideas for new ones, share
your ideas in the feedback link.

Talk online live with other guys
and chat about boxers.

Have a question or opinion?
Know of a good story or sighting?
Post it here. Don't forget to
look at the posts by others.

Here's your chance to tell what you would like to see to make this site even better. Or, share what you like about it. Also, you can report any problems you have with the site here.

Get a camera, take a picture
of yourself sagging, and then
post it here for others to see!
However, if you do wear boxers or are thinking about starting,
then I think you'll enjoy this latest addition to cyberspace.
This is a site for guys to show off their boxers. After all, why wear them if no one is going to see them? Do you have the lowest sag in your school or the baggiest pants? Do you know someone who does? Do you have the coolest boxers that no one else has?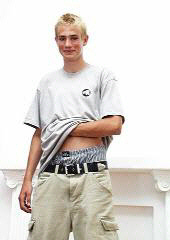 Take some pictures and get them posted here! Enter the contest and see if your picture makes it to the top of the list. Check out the latest competition here.
This site is only as good as you make it. If you are here to just look at the contributions of others, then you are nothing but a freeloader. But if you have pictures to share or you participate in polls, chats, and discussions, then you helped make this a better place.
This site is being continually updated, so be sure to stop back and visit the the progress often.
LATEST UPDATES AND NEWS
Picture Archives Updated -- July 24
Picture Competition Updated -- July 24
Poll Results Updated -- July 24
My summer job is keeping me really busy, so
if anyone is interested in helping to run this site,
please e-mail me via the feedback link. Thanks.
LINKS
Know any good links about boxers? Add them here.
(No adult rated links, please.)
INTRODUCTORY POLL
Please take part in the following poll:
Visitors at this site since March 25, 2002: